DELTA PROJECT: HIDE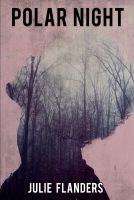 Summary:
When Detective Danny Fitzpatrick leaves his hometown of Chicago and moves to Fairbanks, Alaska he wants nothing more than to escape the violence and heartbreak that left his life in pieces. Numbed by alcohol and the frozen temperatures of an Alaskan winter, Danny is content with a dead-end job investigating Fairbanks' cold cases. That all changes when a pretty blond woman goes missing on the winter solstice, and Danny stumbles upon some surprising connections between her disappearance and that of another Fairbanks woman three years earlier. Forced out of his lethargy, Danny sets out to both find the missing woman and solve his own cold case.
The investigation points Danny towards Aleksei Nechayev, the handsome and charming proprietor of an old
asylum turned haunted tourist attraction in the Arctic town of Coldfoot. As he tries to find a link between Nechayev and his case, Danny's instinct tells him that Nechayev is much more than what he seems.
Danny has no idea that Nechayev is hiding a secret that is much more horrifying than anything he could
ever have imagined. As his obsession with finding the missing women grows, Danny finds his own life in danger. And when the truth is finally revealed, the world as he knows it will never be the same.

Purchase Links:

My Interview w/Julie Flanders
Question 1: -Tell us a little about yourself.
I live in Cincinnati and work as a librarian at a small college. I'm an animal lover and run a blog called Cincinnati Tails which is devoted to animal rescue and animal welfare issues.
Question 2: - How long have you been writing?
I've only been writing seriously for about 5 years or so. Before that I always had stories in my head but I never considered writing them down because I never viewed myself as a writer.
Question 3: - How did you get started? Tell us about your journey to publishing.
The thing that really made me start taking writing seriously was when I volunteered as a writer for Best Friends Animal Society, which is a nationally known rescue organization located in Utah. I was able to volunteer virtually and write feature stories for their website. I loved the experience and loved meeting so many great people and writing about their rescue efforts. I realized I really enjoyed trying to find the right words to tell a story in the best way, and everything else took off from there.
Question 4: -What's the name of your most recently published title? Tell us about it!
My most recently published title is also my first title, and it's a supernatural thriller called Polar Night. It takes place in Alaska during the dead of winter and pits a Fairbanks detective against a frightening foe who may or may not be human.
Question 5: -What was your inspiration for it?
I had a dream where I was on an ocean liner in the 1920s and I met a man who told me about a woman he had loved and lost in Russia during World War I. It was a long way to get from there to the finished story, but if you read it you can see how that beginning became the book.
Question 6: Did you identify with one of the character in the book? If so, which one?
Not really, but if I had to pick one it would be the detective, Danny Fitzpatrick. I haven't experienced the tragedy in my life that Danny has, thankfully, but I can relate to his cynical nature and to his tendency to be a loner.
Question 7: What are you working on at this time?
I'm working on polishing up my next novel, which is called The Ghosts of Aquinnah. It takes place on the island of Martha's Vineyard and crosses back and forth between the present and the 1800s. It's a ghost story combined with a love story and some elements of mystery.
Question 8: Where can readers buy your book?
Question 9: What book are you reading right now?
I'm reading Suspect by Robert Crais. My sister recommended it to me because I'm such a dog lover and a dog plays a prominent role in this book.
Question 10: Do you have any advice for aspiring authors?
My advice would be that it's never too late to find your way as a writer. I didn't start taking all of this seriously until I was on the wrong side of 40 but now I'm happier and more fulfilled than I've ever been. If you love to write, keep doing it and don't give up.
Question 11: What do you like to do when you're not writing?
I love to read and I'm also addicted to television. I love to walk and enjoy taking my dog out on adventures with me.
Question 12: Any authors or books that inspired you and your writing?
I find Stephen King's On Writing and Anne Lamott's Bird by Bird very inspiring when it comes to writing. I think my writing has been inspired by King in some ways because I love stories that bring the paranormal into the "real" world.
Question 13: Any future writing plans you can share?
I hope to finish a sequel to Polar Night called is tentatively called Polar Day. It's given me fits but I hope to get it worked out soon.
Question 14: One of your favorite quotes - (Either a general quote or from one of your own books!)
My favorite quote is "It is never too late to be what you might have been" from George Eliot.
Where can we find you on the internet?

About the Author:
Julie Flanders is a novelist and a freelance writer. Her debut novel, the supernatural thriller Polar Night, is now available from Ink Smith Publishing. When not writing fiction, she loves writing about animals and animal-related issues and she runs the animal rescue blog http://cincinnatitails.blogspot.com/
Find Julie online at http://julieflanders.blogspot.com/"target="_blank">http://julieflanders.blogspot.com